Soul Shine Retreat
With Jamie Blackburn
August 6 - 9, 2020
Are you ready to dig deep, leave the pressures of daily life behind, and find out what makes your soul shine? Do you spend your days taking care of everyone but yourself? Do you want to learn skills for managing stress or anxiety? Then this retreat is for you!
Join Jamie Blackburn for this women-only retreat complete with four days of yoga, mindfulness, self-exploration, and journaling. Not only will you enjoy delicious food, new friends, and beautiful surroundings, but you will reconnect with your core values and walk away with more skills for dealing with whatever challenges life brings your way. Be prepared to learn something new about yourself, practice stress-relief techniques, and create a plan for self-care when you return home.
Includes daily yoga, delicious vegetarian meals, two-hour mineral soak, group discussion, and journal time that will leave you feeling refreshed and ready to tackle the hustle and bustle of "real life".
Presenter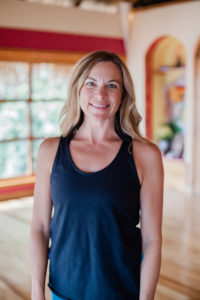 Jamie Blackburn
Jamie Blackburn, MA and E-RYT, is the founder of the Inner MAP Project, a program that teaches people how to manage stress and anxiety using Mindfulness, physical Activity, and Presence (MAP) in the hopes of creating mental wellness for all. She is passionate about helping students find mind-body connections, both on and off…
Learn more about Jamie Blackburn