Anusara Yoga Therapeutic's Application
With Julia Pearring
June 28 - July 2, 2020
Julia Pearring's Anusara Yoga Therapeutic's Application is an invitation to deepen your knowledge of the therapeutic elements of the yoga practice. For yoga teachers and dedicated practitioners, it will open the door to the real potential of your yoga practice to heal what is out of balance.
Discuss the full range of physical imbalances and show how they are brought to light through the asana practice. Learn to facilitate conscious movement for yourself and those who seek your guidance. Leave this training able to more confidently create the space for what needs to be discovered and processed.
You will bridge the forefront of holistic science with the depth of the yogic wisdom. More than just learning a new set of therapeutic adjustments, you will focus on how to skillfully apply the alignment principles of Anusara® Yoga for each and every body, starting with your own.
Julia brings her many years of intensive study of the human body to the program along with her passion to share this information in a very practical and accessible way. Julia recently coordinated and contributed the majority of the content for the Anusara Yoga Therapeutic's Application manual. You will be using this manual as your guide for the training.
Each day will focus on one area of the body and the group will discuss crucial topics that pertain to movement health, optimal body functioning, and inner well being. Upon completion, you can register 28 continuing education hours with Yoga Alliance, as well as 28 elective hours for those working towards a 300hr ATT with Anusara Yoga.
Julia grew up in Manitou Springs, and is thrilled to be able to bring this training to such a special place. There will be time to explore Manitou Springs, Garden of the Gods, hike the Manitou Incline (which has become a national treasure), and so much more. You will have the best of guides: Julia!
The tuition includes the training, four nights and four days of accommodations, and meals. In addition, a complimentary soak in the hot mineral tubs at the SunWater Spa is included. Support in coordinating transportation to/from Denver International Airport will be provided; transportation costs and other excursions are additional. Daily schedule is available upon request.
Presenter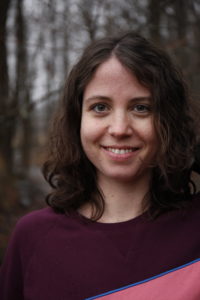 Julia Pearring
Julia Pearring, ECAT, C-IAYT, E-RYT 500, YACEP, supports students in the exploration of their bodies to uncover the strength and potential of a deeper alignment no matter their range of movement. Through her in-depth studies in anatomy, kinesiology, and physiology, she has developed fresh and successful continuing education courses and…
Learn more about Julia Pearring