Finding Balance in Simplicity: A Wellness Retreat for Moms
With Rebecca Peterson and Logan Kinney
January 23 - 26, 2020
Hey Mamas! Do you seek more simplicity? Does your experience of motherhood sometimes feel like you're chasing the myth of "enough time" because you're doing "all the things"?
Then this is a retreat for you, no matter what season of motherhood you're in! Embracing the Mother Retreats opens 2020 with a retreat that is all about finding more balance in your motherhood, simplifying your family life, and creating daily rituals and rhythms to have more time for the things that matter.
We have designed this three night, four day yoga and meditation retreat to be a weekend where you set aside time to prioritize you and to step more fully into the mindset of "less is more." Whether you are a seasoned minimalist mom or just wish life felt less chaotic, we will explore ways to find balance in simplicity.
Our goal this retreat is to explore ways to find more space for the experiences, people you love, and the moments your heart and soul crave through workshops, yoga, breathwork, mediation, and journaling. Let's explore what it means for you to live the "Less is More" reality of motherhood!
This nourishing Mama Retreat includes:
Two yoga classes each day
Guided meditations to help you focus, let go, and relax (Plus, you will also receive recordings to listen to after the retreat)
Two-hour soak at SunWater Spa during free time, before, or after the retreat
Nine organic, vegetarian meals from dinner on Thursday through a take-away lunch on Sunday
Four days and three nights in beautiful, shared accommodations
Workshops (with accompanying workbooks) focused on creating more simplicity, daily rhythms, and space in your motherhood
Creativity enhancing processes: candle art, Mala bracelet making (bring your 2020 intentions!)
Rest, quiet time, time in nature, and an opportunities to deeply connect with other moms
Presenters
Rebecca Peterson
Owner of Embracing the Mother Retreats and Sacred Breaths Retreats and Birth Classes As a Colorado native, Rebecca creates retreats that honor mothers in the childbearing years and take advantage of the beauty of Colorado, where she grew up. Being in circle with other women, more specifically women on a…
Learn more about Rebecca Peterson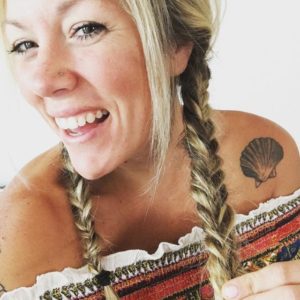 Logan Kinney
Owner of Wanderlust Wellness, LMT, RYT200 Logan Kinney moved to Colorado to take advantage of all the outdoor fun it has to offer. She hails from the Jersey shore, where her beachy vibe was born. Part mama and part mermaid, she brings a deep, fun, and full-hearted energy to every…
Learn more about Logan Kinney