Fearlessly Authentic Yoga and Healing Retreat
With Erin Berry
February 28 - March 3, 2019
Life changes us. It often has us hiding our authentic selves so we can "fit" into the world's approved boxes. Yet, your soul knows that real living starts where authenticity begins – where your true self lives.
Who needs boxes?! Take a magical journey home to the real you. The one who wants to be brave enough to truly live her life. And be free enough to know her own needs…and express them.
You have permission to be Present. And to be You. Spend four days and three nights in a remarkable place that allows you the freedom and space to reconnect with your authentic self and deeply come home. It is time to start living life again from that space of your unique inner truth.
Immerse yourself in:
Meditations
Restorative yoga
Sound healing
Creating community (workshops)
Mineral water soak at SunWater Spa
9 vegetarian, gluten free meals fresh from the land and made by on-site chef (includes sack lunch on Sunday)
The magic of YOU and your unique unfolding
What to bring:
Journal and pen
Yoga mat
Comfy clothes
Swimsuit and beach towel
Water bottle
Anything that will make you 100% comfy
Your playful spirit and a deep desire to reconnect with your beautiful authentic essence
Amenities:
Access to the grounds (wandering is encouraged)
Walking distance to Garden of the Gods
Walking distance to SunWater Spa for a mineral water soak that is included with retreat
Hot tub on site
Meet all the animals on the grounds (Goats, chickens, dog and Jezebel the pig)
Awe-inspiring views of Pike's Peak, nature and surrounding mountains
Presenter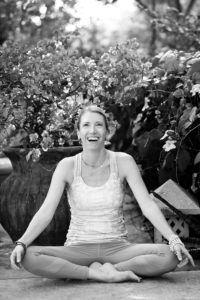 Erin Berry
Erin Berry is an accomplished yoga instructor with over 350 hours of Vinyasa and Restorative Yoga instruction training combined. She strives to help students reconnect to the most authentic parts of themselves through yoga, guided meditations and imagery. As a VortexHealing® Divine Energy Healer, Erin also channels divine energy with…
Learn more about Erin Berry