Mid-Winter Reset | Local's Retreat
With Chelsea Winters
February 1 - 3, 2019
Join Chelsea Winters for a mid-winter reset at SunMountain Center, a creative sanctuary for wellness. Located in Manitou Springs, Colorado at the base of Tava (Pikes Peak), stay at historic Onaledge home, situated on six acres of terraced gardens, complete with walking & meditation trails and stunning views of the surrounding mountains. Enjoy farm to table meals, soaking in the near by SunWater Spa mineral waters, yoga, meditation, pranayama practices and deep connection.
SunMountain Center creates an unmatched atmosphere encompassing the surreal tranquility of nature while offering an intimate setting to nourish your body, mind, and soul. With an interest in the surrounding culture, SunMountain encourages guests to partake in activities such as touring the land, venturing into the historic city of Manitou Springs (just a ten minute walk away), exploring nearby Garden of the Gods (just a ten minute drive away), escaping to neighboring SunWater Spa for a blissful soak in the Hot Mineral Tubs, as well as many other enticing endeavors. SunMountain Center strives to offer a sacred and meditative space to deepen the connections and expand the consciousness of its guests. During free time, yogis may enhance their experience on retreat by booking a massage and healing session. Join Chelsea for an opportunity to reconnect with yourself- spiritually, physically, and mentally.
$250 non-refundable deposit holds your space with the remainder due on or before Dec 15, 2018. *Room availability is on a first come, first serve basis. Each room has a private bathroom. Space is limited.
Cancellation policy: Should you need to cancel your space, all payments become non-refundable if you cannot fill your spot. If you can fill your spot with a replacement yogi, you will receive all payments back, less $150
RETREAT INCLUDES:
2 night stay in a cozy, historic room in private Onaledge house, at SunMountain Wellness Center- each room has a private bath
4 fireside yoga classes with Chelsea featuring breath work and meditation
5 farm to table, organic, vegetarian, gluten-free meals, from the thriving urban farm on site and other local sources (dinner Friday night; breakfast, lunch, dinner on Saturday; breakfast and bag lunch on Sunday)
Welcome wine and cheese party
2 hour soak in near by SunWater Spa mineral hot springs (10 minute walk or short drive)
Unlimited access to large private Onaledge hot tub- beautiful for star gazing
Nearby nature hikes- challenge yourself and hike the "Manitou Incline"
Access and exploration of nearby Garden of the Gods Park (park entrance fee is free- just a short drive away)
Exploration of quaint and funky Downtown Manitou Springs, a 10-15 min walk from Onaledge
NOT INCLUDED IN RETREAT:
Transportation to and from Manitou Springs, CO (carpooling is encouraged)
Massage on site
Additional soaking at SunWater Spa
Additional yoga classes at SunWater Spa or nearby excursions
Presenter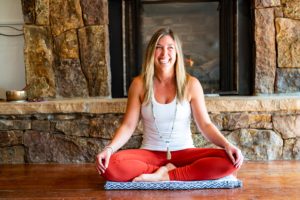 Chelsea Winters
Chelsea was first introduced to yoga as a freshman in college at the University of New Hampshire and has been practicing since. As a long time vegetarian with a passion for the outdoors, it was a natural fit. Chelsea is an active person and was initially drawn to the physical…
Learn more about Chelsea Winters